Online Privacy Updates & the Effect on Multifamily Digital Advertising
Nov 09, 2021
3 minutes read
Online Privacy Updates & The Effect On Digital Advertising 
Within the last year, you may have noticed more and more articles on upcoming privacy updates for multiple tech companies, search engines, and social media platforms. So what's the deal? 
Today's digital leaders have found that one of the most important things to online users is their privacy and how their data is being shared. According to a 2019 study by Pew Research Center, 79% of adults assert they are very or somewhat concerned about how companies are using the data they collect about them, and 81% say that the potential risks they face because of data collection outweigh the benefits. Source
The leaders of tech companies, search engines, and social media platforms value gaining the trust of their users, and with growing concerns people have about their personal data collection, now is the time to evolve and protect their privacy, or risk losing their trust, and therefore impacting their brand.

What is being done about it?
Queue the privacy updates. Companies are changing the way they collect and share data with third-parties, giving their users greater protection and control. This, in turn, creates a challenge for advertisers.
Say Lindsey just watched a YouTube video about a certain topic and when she later got on Instagram, there was an ad for an item related to the Youtube video. This is done by using third-party cookies. Cookies are small files that websites send to your device that the sites then use to monitor you and remember certain information, like what's in your online shopping cart or a trip you're planning to take. This data is shared with third-parties where advertisers use the information to deliver highly targeted ads. These new privacy updates steer away from using these third-party cookies.
For example, Apple has been rolling out iOS updates that introduce a handful of new settings that give users more control of how their data is used. After updating an iPhone or iPad to iOS 14.5 or greater, a pop-up appears within apps that asks permission for the company to track the user's activity across other companies' apps and websites. A user can choose "Allow" or "Ask App Not To Track".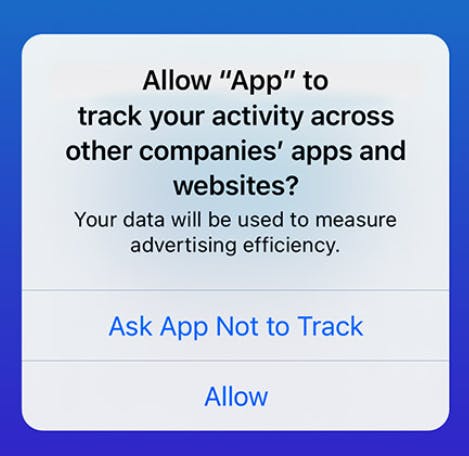 Google's initiative is to remove third-party cookies from their browser, Chrome, by 2023. Their plan is to roll out their own version of collecting first-party data on their users for advertisers to use. In simpler terms, Google will be grouping users with similar generalized interests, rather than collecting their almost every move throughout the internet.
How will this affect Digital Advertising In Multifamily?
If you're investing in digital advertising for your community, don't be alarmed. Although social media and Google Ads are based on data-driven decisions, we don't see these updates having a large impact on multifamily digital advertising.
Because of Fair Housing Laws, multifamily advertisers cannot target specific demographic data of a user, to steer clear of discrimination. This is why our digital marketing efforts focus on fulfilling what a user is searching for (ie "apartments near me"), rather than targeting who they are. By understanding what online apartment shoppers' search behaviors are, we can continue to personalize ads to them and make strategic decisions, all while following privacy guidelines. 
In Conclusion
The conversation of online privacy is only going to grow. Companies are evolving to protect their users, and although it will be challenging for advertisers, we don't see a huge impact on multifamily digital advertising. 
If you're interested in learning more about our digital advertising services, contact us.
Happy Marketing!
The Resite Team
Back to all articles