Updated Resources for COVID-19 Communication
Jul 07, 2020
4 minutes read

As some states have begun lifting the restrictions of businesses and public places due to COVID19, others are being restricted once again. In these evolving times, it's important to use resources that are available to communicate your updated business information to residents and prospects online. We've compiled a list of best practices that can be easily implemented in your community.
GOOGLE UPDATES
When COVID19 hit this spring, Google restricted features that were available within the Google My Business (GMB) platform, including leaving new reviews, responses, and asking questions in a listing's Q&A section. This was due to both Google employees working remotely and to prevent negative reviews due to circumstances out of the businesses control because of mandated restrictions and closures. 
During the last few weeks, Google has enabled these features based on a listing's location and industry, which are now available throughout multifamily. In addition, Google has added features within the GMB platform that highlight important COVID19 related business information when your listing is shown in search results. Here's what you need to know. 
GOOGLE REVIEWS 
Once again, the ability to leave new reviews on your community's GMB listing is now available. We all know how important online reviews are in today's world and the impact it has on a consumer's decision-making process. For some, this can be the very first impression that your community can have for someone searching for an apartment. If your community is lacking more recent reviews, reach out to your current residents with your listing's GMB review link and request reviews from them.
Just as impactful as it is to receive reviews, it's just as important to respond to them. 
According to consumers, businesses that respond to reviews are 1.7X more trustworthy than businesses who don't. -Google
With Google's Review response feature back on, show that you care by responding to their feedback (they're alerted when you reply) and catch up on responding to any that you may have missed in the past.
GOOGLE Q&A
Users can now ask and answer questions within your listing. It's important to stay on top of answering these questions to show prospective residents that you're engaged and responsive to the people that matter most, on and off the internet. If you see that a question has already been answered by another user, you're still able to leave your own feedback that may be more in-depth and informative than the other.  
These can also play a role in your listing's organic search results by showing relevant questions and keywords that are asked within the Q&A section. 
UPDATE YOUR LISTING
New attributes are now available that highlight updated business information. Are your office hours changing and different than what's listed on your GMB profile or website? Are you still offering virtual tours? What's your community's COVID19 policy and procedures? All of these may be questions prospects are asking and your property now has the ability to answer them with easy updates within your GMB profile. 
Log into your GMB account and you'll be greeted with these resources with step-by-step instructions on how to best stay connected during COVID-19.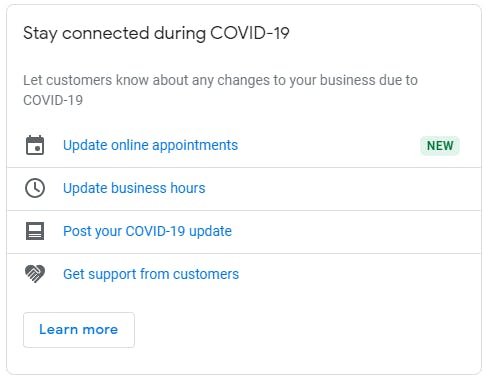 Update Online Appointments
If your community is continuing to offer virtual tours and online scheduling, update your "online appointments" information by inserting your website's URL where prospects can easily sign up for tours.
Update Business Information
If your community's office hours have changed, update these hours within the "info" section of your profile when logged in. 
Create a COVID19 Update Post
Log into your GMB account. Click on "posts" from the menu on the left side of the screen and select "COVID-19 Update". Insert information prospects will find valuable. You also have the ability to add a call-to-action button that can take users to URLs where they can read more information or sign up for a tour on your website.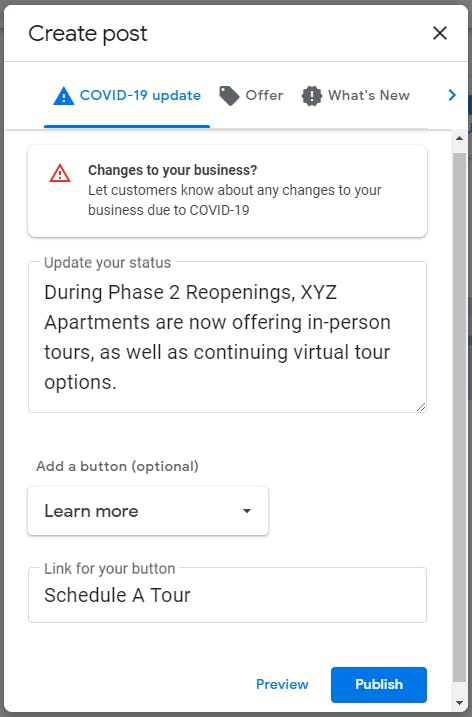 Once you've published the post, it will prominently display when your listing shows in search results. Remember, Google updates within your GMB profile may be reviewed for quality and can take up to 3 days to be published.
USE SOCIAL MEDIA TO LEVERAGE THESE UPDATES
As well as posting up-to-date information for potential prospects who are actively online apartment searching, it's also important to keep your loyal social followers updated with important announcements. If the majority of your online followers are your residents, be sure to post information that is valuable to them as well as prospects who may be finding you on social media. Consumers are spending more time online right now and social media is a large portion of where they're at. Use Canva to create social posts from free and well-designed templates.
If you have questions about any of the resources above, reach out to us through our online form or at support@resiteonline.com. 
Happy Marketing!
The Resite Online Team 
Back to all articles