3 Reasons You Should Use Location Assets in Google Ads
Mar 15, 2023
3 minutes read
3 Reasons You Should Use Location Assets in Google Ads
As many of you know, Google Ads is a popular form of PPC advertising and it's an excellent way for property management companies to get their communities in front of potential renters and attract them to use their services. Not only does Google Ads provide the opportunity for quality leads, but it also gives access to in-depth audience insights and behavioral learnings. Whether you're looking to upgrade your PPC performance or start out with Google Ads, this post is here to help by showing how to improve your PPC performance using Location Assets. Let's get started! 
What Are Location Assets?
Location Assets are one of Google Ads assets (formally known as "extensions") which are additional content you can add to your ads to showcase more information about your business. With location assets, your ads can display information such as your address, a map to your location, or the distance to your business to help people find your business. As location plays a huge role in apartment renters' decision to lease an apartment, there's no better way to start than by making the most of this feature! 
Why You Should Use Location Assets in Google Ads
Here are some of the major benefits of using Location Assets in your Google Ads campaigns: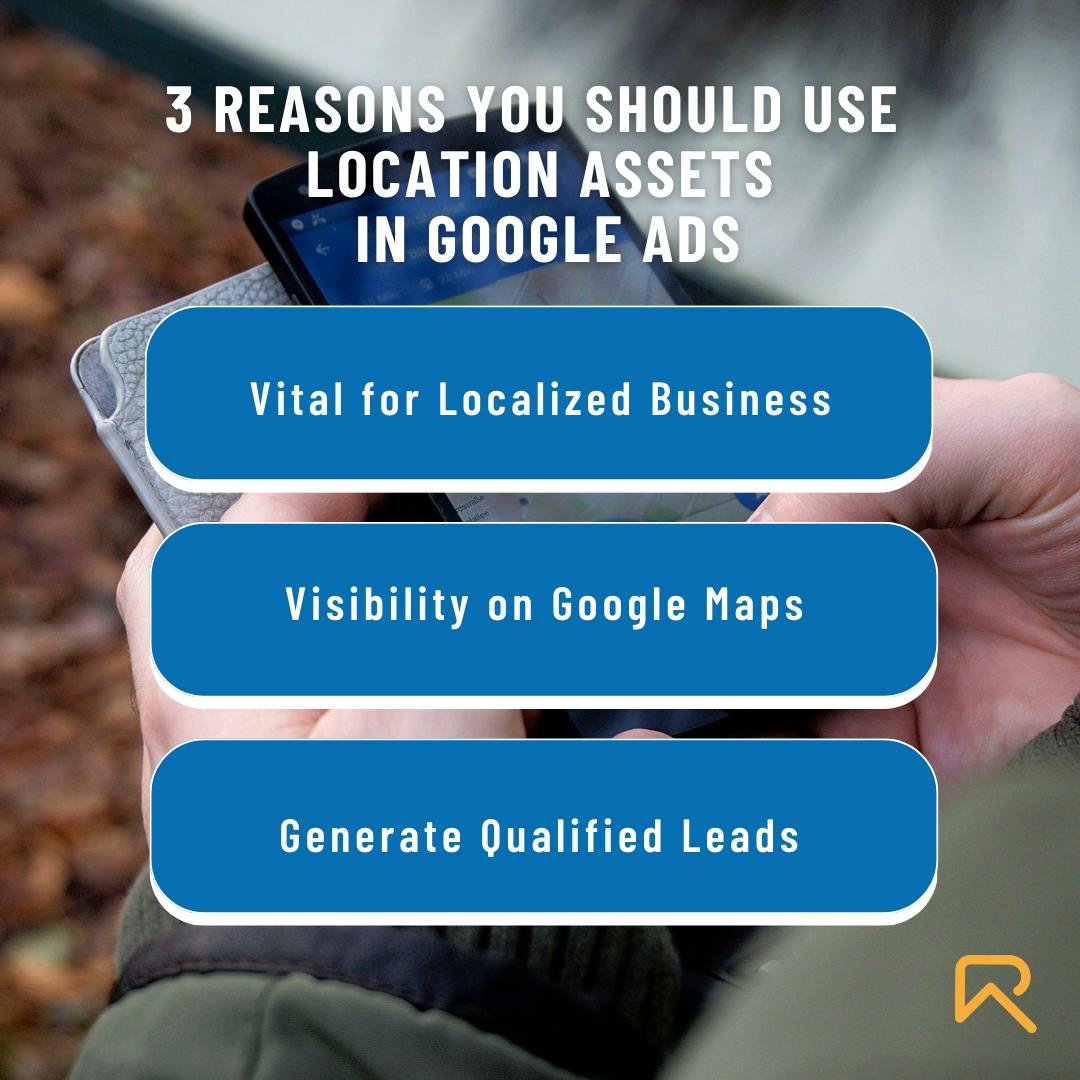 1. Vital for Localized Business
Using Location Assets is very effective at reaching customers who are more likely to actually visit your business because of its localized nature.  Location Assets can be a game-changer for locally-based businesses such as apartment complexes that are looking to get noticed by potential residents who may be just around the corner and searching for a place to live! 
2. Visibility on Google Maps 
With location assets, you can add a link to your community's address on Google Maps so that prospects can see where your community is located. Not to mention, the ad appears in the Google Maps app as well as on the mobile, tablet, and desktop versions of the sites. Displaying your community's ad in map form also alerts your potential residents to the exact location of your community, which could be enticing if they notice that your community is nearby and therefore more convenient and potential competitors.

3. Generate Qualified Leads
By adding more content, your ads allow poor-quality leads to self-disqualify, therefore, you get fewer irrelevant clicks. The users who click through to your landing page are far more likely to take the desired action. As long as you're targeting the right keywords and specific locations, you will start to reap the benefits of using Location Assets. A successful PPC campaign doesn't happen overnight and needs time to reach its full potential performance, so always remember to be patient with your campaigns. Last but not least, PPC optimization is an ongoing process and your campaigns will only be successful if they are permanently optimized. 
To take advantage of this awesome feature, you will have to link your Google Business Profile account with your Google Ads account first. Once your Google Business Profile is connected with Google Ads and you can use the locations associated with that account as assets in your ads. As we mentioned in our previous post, Google Business Profile is a crucial tool for any business's online presence! 
If you have any questions or are looking for more than PPC tips, feel free to get in touch with our marketing team today to learn how we can help you. 
Happy Marketing!
The Resite Team
More interesting content
Back to all articles