How To Optimize Your Community's Google Business Profile
Jun 28, 2022
4 minutes read
How To Optimize Your Community's Google Business Profile
Summer is finally here, and it is one of the busiest times in the multifamily industry!
According to last year's data from Google Trends, the search term "apartments for rent" hit its peak in July, showing us that your potential residents were more active in apartment hunting.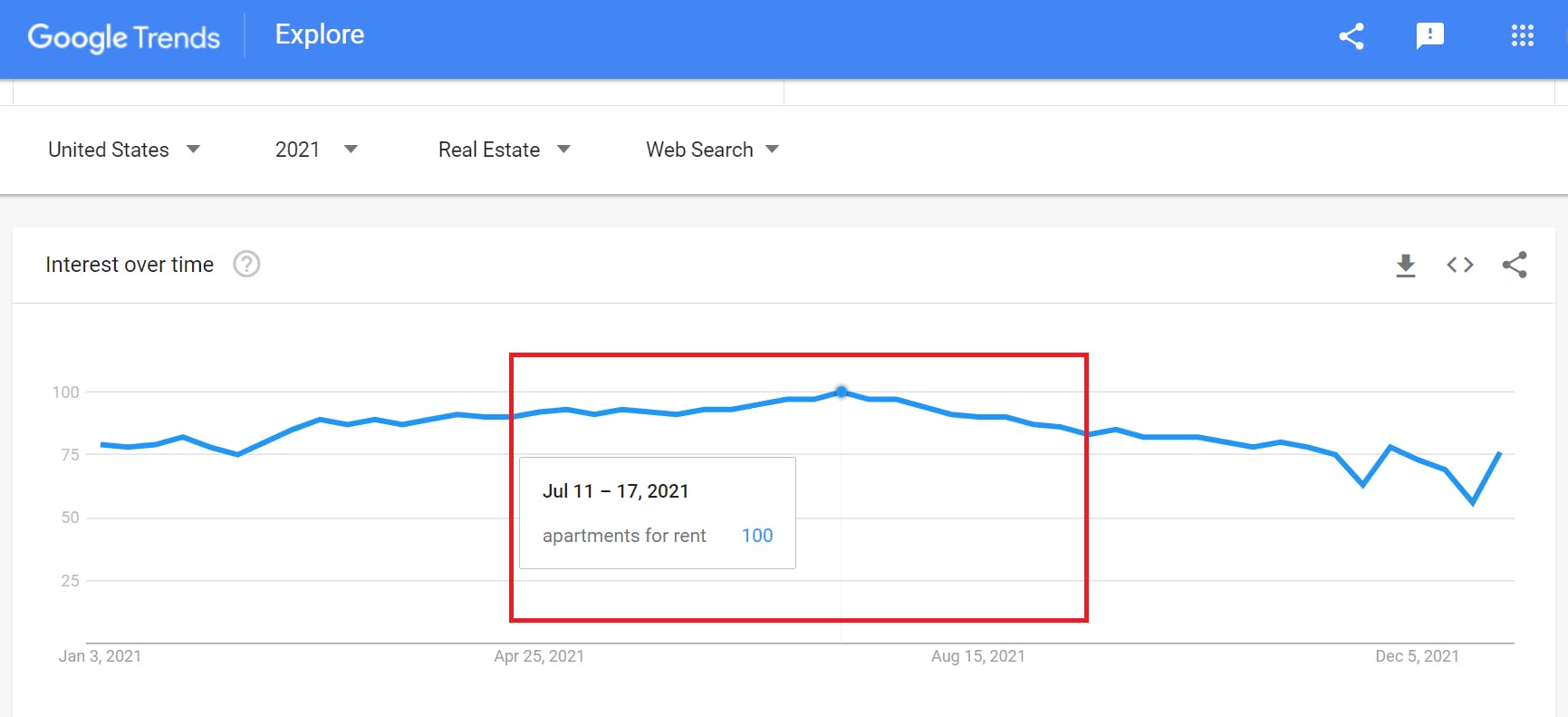 Creating and maintaining your consistent presence on Google Maps and Google Search is crucial now more than ever. Let's walk through the benefits of keeping up with your Google Business Profile and how it can positively affect your community. As Google learns more about your business, you'll watch your listing climb to the top of the Google search results, and consequently increase leads. If you've already set up your Google Business profile but haven't done much with it, this article is for you!
What is Google Business Profile and Why is Important? 
Google Business Profile (formerly known as Google My Business) is a multi-featured business listing that local businesses and organizations can use to increase their visibility across Google Services such as Google Search and Google Maps. It can be a powerful digital marketing tool once you invest some time and attention, and it's FREE! Google Business Profile allows you to give your potential residents all the business information they want to find at once, such as address, phone number, leasing office open hours, website, customer reviews, and so on. Having a complete and accurate Google Business Profile ensures that users won't have to navigate to third-party websites to get the information they need.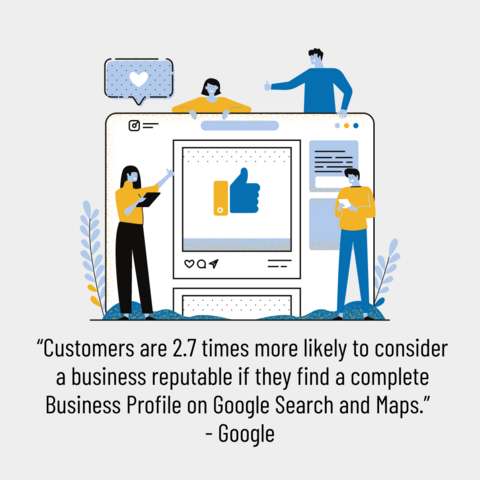 4 Tips to Optimize Your Community's Google Business Profile
1. Fill Everything Out As Possible.
According to Google, Customers are 2.7 times more likely to consider a business reputable if they find a complete Business Profile on Google Search and Maps. They're also 70% more likely to visit your location! 
Google Business Profile is all about customer experience. Therefore, adding complete and detailed business information helps Google better understand your business and match your profile to relevant searches.
Last but not least, always be sure to keep your business information up to date and accurate.

2. Utilize The Marketing Features.
Besides adding photos/videos, there are so many awesome features that you should be taking advantage of in Google Business Profile. The following are some of the features we recommend adding to your community's Google Business Profile:

1) Posts
You can publish your community's offers, events, and services directly to Google Search and Maps through posts on the same page as the rest of your Google Business Profile.
Posts can include text, photos, and videos. Google also offers a free marketing kit that you may find useful.

2) Appointment Links
This feature allows users to schedule a visit right through the Google Business Profile. All you need is simply the URL of your appointment booking page (if you don't have one, your contact page works too). Once the link is added to the correct field, you will see the URL appear in your Business Profile shortly after.

3) Messaging
Messaging is a great way to connect with both your residents and potential residents directly. Once you turn on chat, they will find a "Chat" button on your Google Business Profile and will be able to send you a message, question, or request. Messages will appear in your Google Business Profile and you'll receive notifications for incoming messages as well. You can turn off the chat feature or set up auto-replies when you're not able to respond promptly. 
3. Engage With Your Residents/Potential Residents.
Answering questions and responding to reviews/messages is a part of optimizing your customer experience.
Even something as simple as saying thank you to positive reviews and offering to help fix the concerns mentioned in negative reviews can make all the difference.
4. Take Advantage Of Insights.
Google Business Profile Insights provides you with different ways to understand how users interact with your listing. Insights data includes views, searches, and actions from both organic search results and Google Ads. Tracking the data and insights you can get from your Google Business Profile can be used to improve marketing effectiveness and drive future improvements. The more you can do to provide the best possible information and experience for your residents and potential residents, the greater chance you'll succeed in online searches.
If you need to optimize your Google Business Profile, or have any questions about setting up a Google Business Profile for your community, feel free to get in touch with our marketing team today. 
Happy Marketing!
The Resite Team
Back to all articles