Learn More About Responsive Search Ads: The New Default in Google Ads
Mar 04, 2022
3 minutes read
Learn More About Responsive Search Ads: The New Default in Google Ads
Since we are almost three months away until June 30, 2022, when Google sunsets the ability to create and edit Expanded Text Ads (ETAs), let's learn more about Responsive Search Ads (RSAs), the new default ad type for Search Campaigns in Google Ads. If you haven't started testing RSAs yet, now is the time!
What are Responsive Search Ads (RSAs)?
Responsive Search Ads were initially introduced in 2018 and became the standard ad type in February 2021 when creating ads for search campaigns. Unlike Expanded Text Ads (ETAs), which used to be the default ad format, RSAs allow you to have 15 variations of titles and four descriptions for one ad.

The significant difference between the two is Automation. Using machine learning, RSAs identify the best-performing asset combination - your most promising ad to match a user's search - and serve it at the right time. (Although you don't have to fill every ad headline or description, it certainly does make split testing easier!)

Why is the Change Happening?
So why is Google doing this? The answer is Google's push towards automation and machine learning.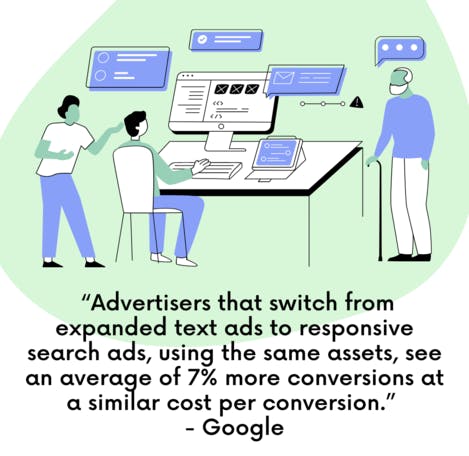 According to Google, "Advertisers that switch from expanded text ads to responsive search ads, using the same assets, see an average of 7% more conversions at a similar cost per conversion."  They also claim that "Responsive search ads help you compete in a wider variety of relevant auctions by delivering ads that adapt to show the right message for the right query. This means that you can drive incremental conversions and create fewer ads - all while spending more time on strategic initiatives for your business." Hence they believe that this change will be better for advertisers. 

Here are 3 great benefits of using RSAs: 
Improved Performance and Continued Optimization 
Easier, Time-Saving Account Management 
Stay Flexible With Changing Consumer Behavior
While many advertisers may feel less control over their ads, the benefits are worth it.  Whether we like it or not, automation has become an increasingly critical part of paid search. We anticipate that the role of automation in digital marketing will only increase as technology becomes more advanced. Not only will this help you to focus more on the strategic elements that go into creating a great ad campaign, but will also help your businesses maximize your ROI by automatically optimizing your advertising approach. 

When Should You Transition Into RSAs?
Now is the perfect time to start!  If you aren't familiar with RSAs yet, we highly recommend taking the time to orient yourself now by creating your first RSA. Utilizing them sooner rather than later will be beneficial to understanding how to make RSAs work best for your campaigns. The more data you can start gathering now, the deeper the insights you can gather about your audience.
If you're currently running ETAs, you can start by testing the current ETA ad pieces in RSAs and figure out what works best so you're not cut off completely from new ad creation when Google Ads stops allowing ETAs. 
Best Practices For Writing Successful Text Ads And Common Mistakes To Avoid (Google) 

To keep your digital marketing efforts as effective as possible, today's marketers need to embrace this change and start investing in the future of automation and machine learning.

If you're currently running Google Ads campaigns and need to optimize your Google Ads account, or have any questions about RSAs, feel free to get in touch with our marketing team today. 

Happy Marketing!
The Resite Team
More interesting content
Back to all articles