Your 2023 Multifamily Digital Marketing Checklist
Dec 20, 2022
3 minutes read
The end of the year is one of the most important times for management companies because there are so many decisions to make that impact your overall marketing strategy. It's a perfect time to do some housekeeping to make sure you're not only ready to put a cap on this year, but are set to start the new year on the right foot. No matter what the past 12 months looked like for your community, preparing your digital marketing strategy for the year ahead should be on your to-do list. We've created the below checklist to help you make 2023 even more successful than 2022. Let's get started!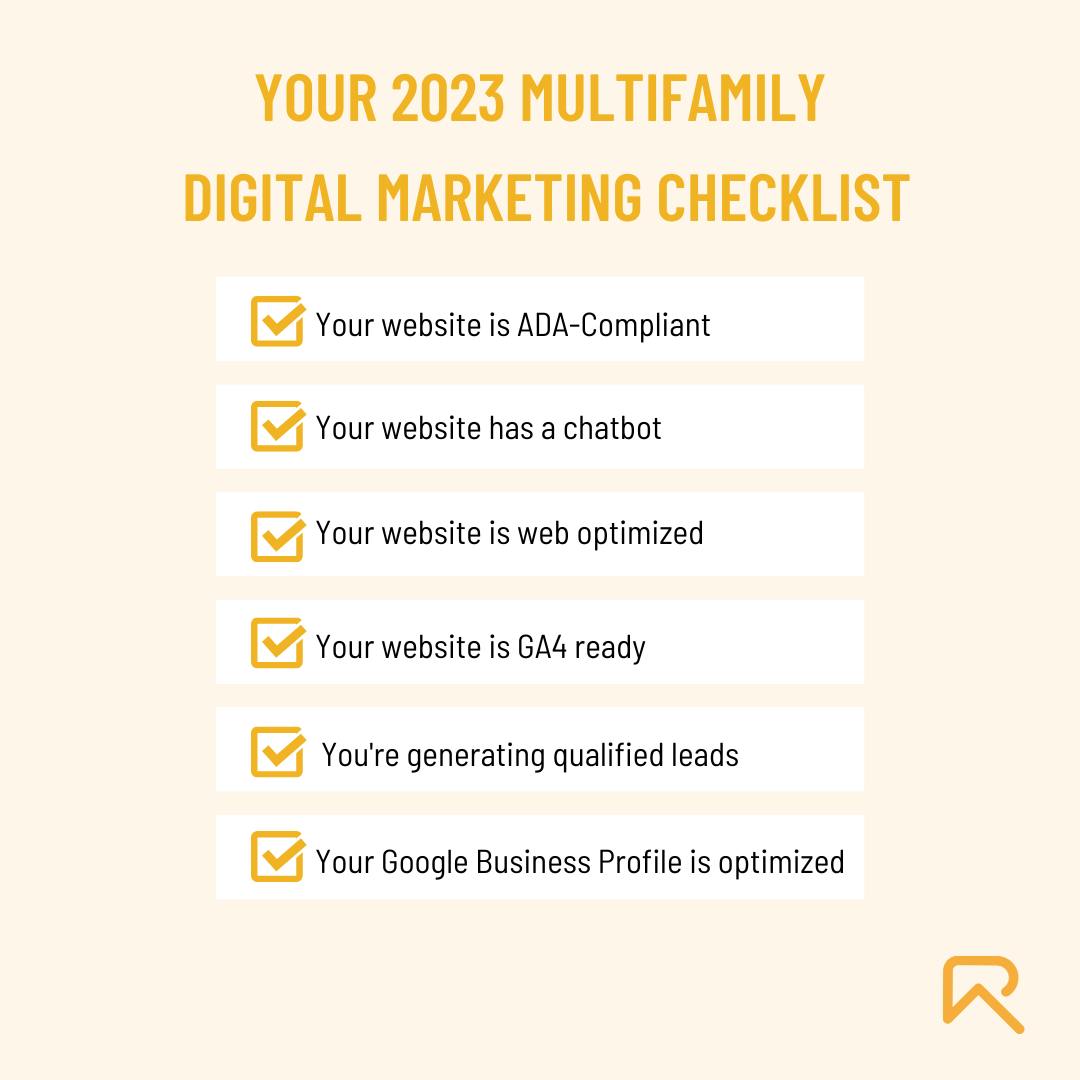 1. Is Your Website ADA Compliant?
It's 2022, your website needs to be accessible to all! With over 56 million people in the United States who have a disability and that number is growing, you're automatically missing out on millions of potential renters who cannot access your community's website due to its limitations. At Resite, we are encouraging all customers to be proactive about web accessibility and transition their websites to an ADA-friendly design as soon as possible.

2. Does Your Website Have A Chatbot? 
Why is a chatbot necessary for multifamily? The benefits of chatbots are not only limited to their 24/7/ availability. Not only being able to schedule appointments and answer prospects' questions 24/7 but Resite's Communication Assistant Leasing Bot, CALEB can also real-time analytics and marketing reports back to your team. Try our demo now and start imagining the endless possibilities of what CALEB can do for your community!

3. Is Your Website Well Optimized? 
Start 2023 strong with a plan for website optimization! Website optimization is a great way to make your community stand out on search engines like Google. If the information and content on your website no longer represent your community, then it's time for an update. Providing users with an enhanced experience can help drive more traffic and increase conversion rates by focusing on content, keywords, and design.

4. Is Your Website Ready for the GA4 Transition? 
As we mentioned in our last post, Google is planning to sunset standard Universal Analytics (UA) properties on July 1, 2023. If you're only using the UA version of Google Analytics, you'll no longer be able to track data on your community's website. To continue measuring your site, you'll need to set up a new GA4 property. 

5. Is Your Website Generating Qualified Leads? 
Digital Advertising is a great opportunity for your community to grow and gain more valuable traffic and leads! One of the most significant benefits of digital advertising is the ability to accurately measure your results, unlike traditional advertising. Tracking your results leads to campaign improvements and you can see what's working for your community and what isn't. Digital advertising also allows you to reach people interested in your community at a level of depth that traditional advertising can't match. You can spend your budget more effectively and obtain more valuable leads for your community!

6. Do You Make the Most Out of Your Google Business Profile?
Did you set up a Google Business Profile for your community yet? Or you've already created one but don't really know what to do with it? To make the most out of your Google Business Profile, you will have to optimize it! To learn more, you can check out our previous post. 
If you have any questions or want to keep your digital marketing efforts up-to-date in 2023, feel free to get in touch with our marketing team today. 
Happy Marketing!
The Resite Team
Back to all articles